Artikelnummer: pr_0005
EVELIZA® Dr. Rau's
Essential amino acids – 40 sachets – gluten-free
EVELIZA gluten-free is pure cell food.
free of artificial colors
free of artificial aromas
free of preservatives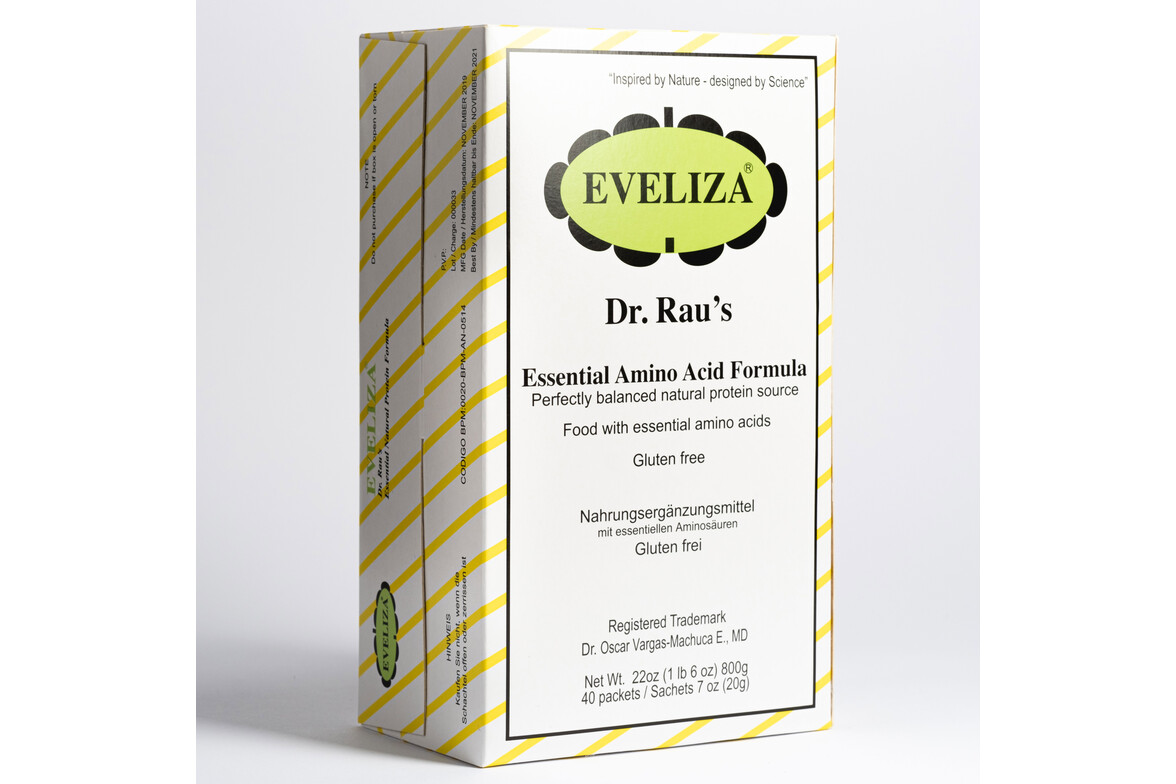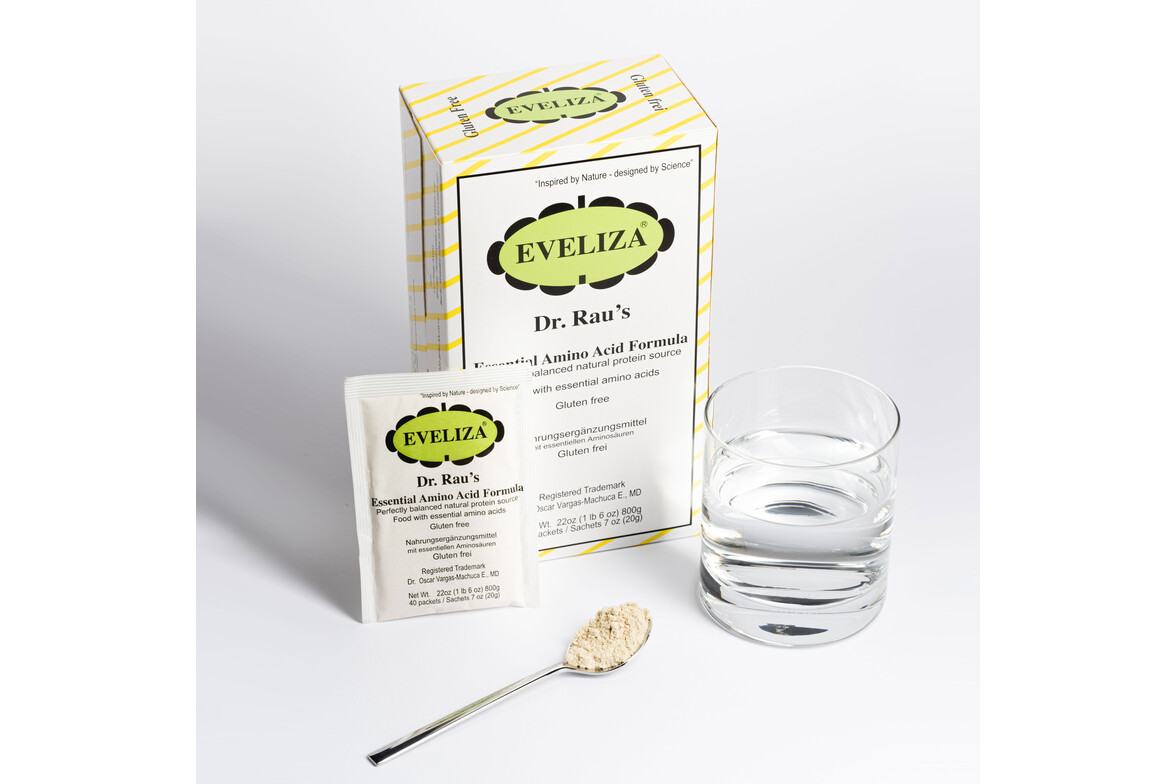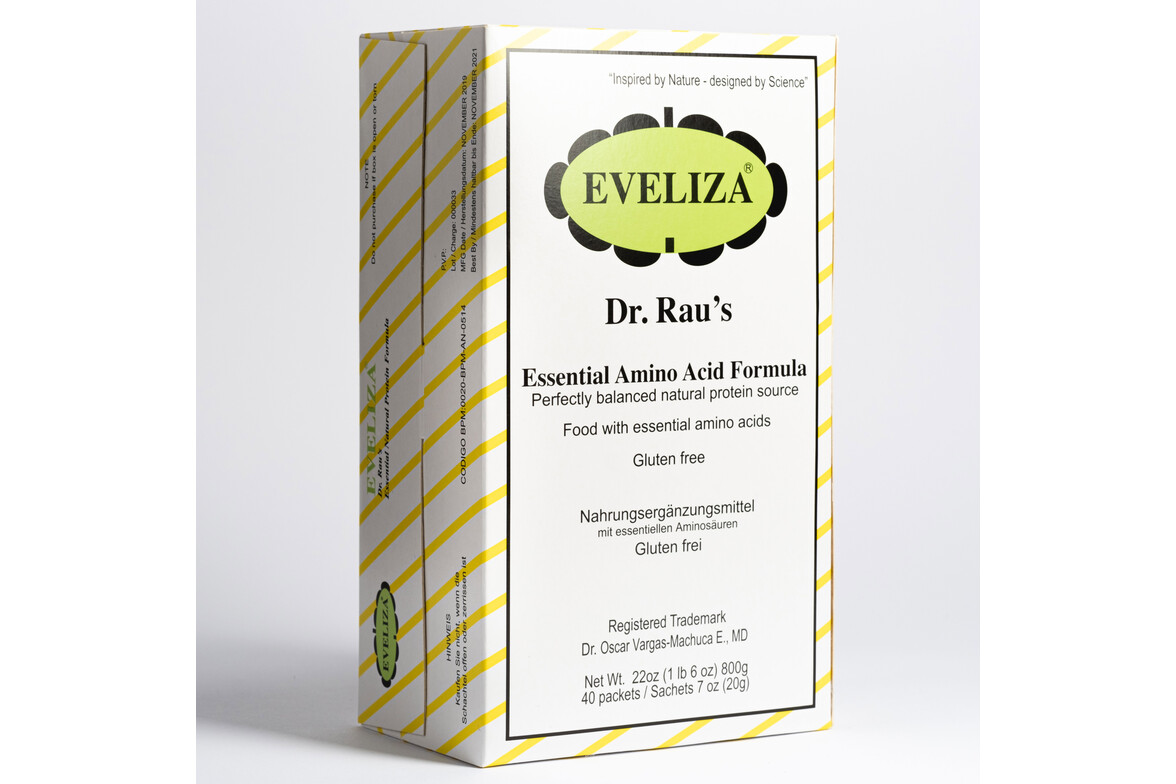 Nahrungsergänzungsmittel mit essentiellen Aminosäuren - Gluten frei
Who profits from EVELIZA gluten-free?
EVELIZA gluten-free is suitable for anyone who is interested in organ regeneration, restorative therapies or metabolic rate activation.
How is EVELIZA gluten-free administered?
Take 1 sachet in a large glass of water 1-2x per day, stir extensively until lump-free and drink immediately. The addition of a little lemon juice or flaxseed oil is recommended. EVELIZA gluten-free can also be added to green smoothies. EVELIZA should not be cooked, roasted, fried or put through a mixer. Immediate consumption is important, as it allows the active amino acids to be absorbed in their L-form.
Do not take with milk or sugar.
Ideally take EVELIZA gluten-free for several weeks. The effect will be noticeable in 1-2 weeks by feeling vitalized and by the increased metabolic rate.
What does EVELIZA gluten-free contain?
Ingredients: quinoa*, amaranth, brown and red sea algae extract
All ingredients from controlled organic cultivation
Nutritional values of EVELIZA Dr. Rau's
| | |
| --- | --- |
| per daily dose (2sachets) | |
| Fat | 2 g |
| Carbohydrate | 20 g |
| Protein | 10 g |
per daily dose (2 sachets)*

Magnesium
164.7 mg
Calcium
144.5 mg
Iron
2.71 mg
Copper
0.15 mg
Vitamin D
0.94

μg
* = % of the daily recommended intake
Quantity
Price / Packung(en)


price advantage
from 1

96,59 CHF

99,00 CHF

from 2

92,20 CHF

94,50 CHF

4,39 CHF (5%)

4,50 CHF (5%)

from 4

89,37 CHF

91,60 CHF

7,22 CHF (7%)

7,40 CHF (7%)

from 8

87,32 CHF

89,50 CHF

9,27 CHF (10%)

9,50 CHF (10%)