Artikelnummer: pr_0004
Dr. Rau's Neuro Sana
Food supplement – 450 ml
with vitamin C, vitamin B12, vitamin E, quercetin from onions, folic acid and beta-carotene
Folate, vitamin C and vitamin B12 contribute to a normal function of the immune system, to the reduction of tiredness and fatigue and to a normal psychological function.
Folate and vitamin B12 support the process of cell division.
Vitamin C and E contribute to the protection of the cells from oxidative stress.
Vitamin C and B12 contribute to a normal energy metabolism and to the normal function of the nervous system.
Vitamin A helps to maintain normal mucous membranes.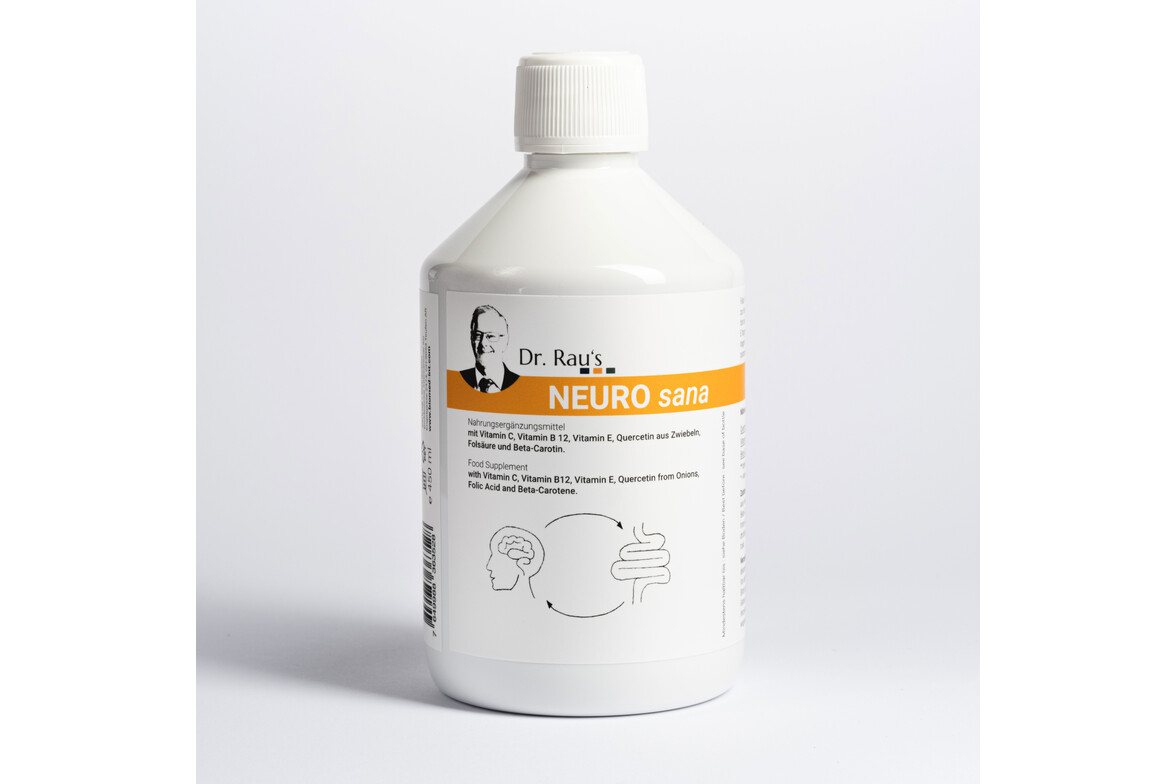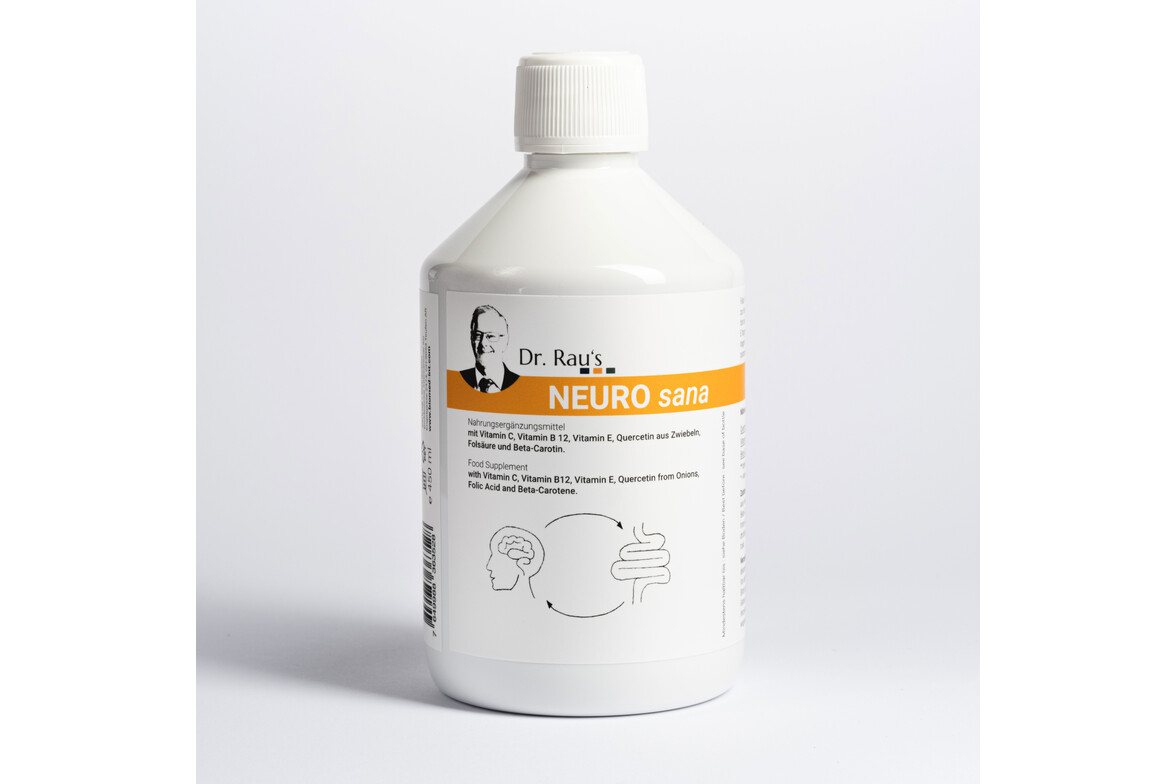 with vitamin C, vitamin B12, vitamin E, quercetin from onions, folic acid and beta-carotene
Recommended daily dosage
Daily 1 x 5 ml taken with 200 ml of water, preferably at least 15 minutes before a meal.
What does Dr. Rau's NEURO sana contain?
Water, vitamin C (L-ascorbic acid), emulsifier (soy lecithin), beta-glucan from yeast, quercetin-rich extract from onions, vitamin E (toco-trienol-tocopherol), beta-carotene, turmeric extract (0.02%), aronia extract (0.02%), moringa extract (0.02%), trans-resveratrol, acidity regulator (sodium hydroxide), folic acid (6S-5-methyl tetrahydrofolate), vitamin B12 (methyl-cobalamin, 5'-desoxyadenosylcobalamin), aroma extract.
Nutritional values per daily dose (5 ml)
| | |
| --- | --- |
| Quercetin | 10 mg |
| Vitamin C | 300 mg (375%*) |
| Beta-carotene | 800 μg** |
| Vitamin E | 10 mg (83%*) |
| Folate | 200 μg (100%*) |
| Vitamin B12 | 133 μg (360%*) |
* Nutrient reference value (NRV) in %
** calculated as vitamin A 133 μg (17%)
Quantity
Price / Flasche


price advantage
from 1

97,07 CHF

99,50 CHF

from 2

91,22 CHF

93,50 CHF

5,85 CHF (6%)

6,00 CHF (6%)

from 4

86,63 CHF

88,80 CHF

10,44 CHF (11%)

10,70 CHF (11%)

from 8

83,12 CHF

85,20 CHF

13,95 CHF (14%)

14,30 CHF (14%)